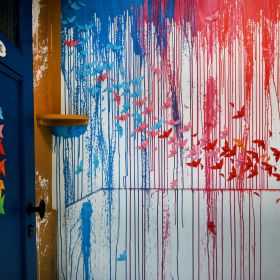 Born in the Haut-Savoyard mountains in 1987.

After spending a year in the land of the rising sun and experiencing the tragic events of 11 march 2011 (earthquakes, tsunami and the Fukushima nuclear power plant explosion) from Tokyo where she was living at the time, she decided to compose her urban visual works in direct relation to these events. She took inspiration from the legend of the 1000 cranes and the story of Sadako, a young girl that had survived Hiroshima.

Using origami, lace, embroidery and other combined techniques she produces works with a direct link with her daily experiences.

Her creations are positive, ultra-colourful and engaged, issuing from a carrousel of emotions where everyone can find an echo of their own sensibility. Mademoiselle Maurice's work maintains an ethereal aspect raising issues and questioning human nature and the interactions between man and the environment which surrounds him. Mademoiselle Maurice's artistic approach is both a breath of fresh air and a constantly evolving process of thought that paves the duality of a reality that is as attractive as it is repulsive with colours, opening up large abstract spaces within the city.