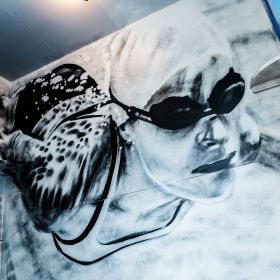 Dire, developed a passion for drawing at a very young age, he entered the graffiti scene towards the end of the 80s. Dire then worked to develop his style and joined the famous 123 crew (Marseille - Paris).

He has been frequently invited to participate in major events such as Solidays in Paris, Graffiti Art in Brussels, and the international board sports show in Grenoble.

In parallel to this Dire has been studying applied arts. Whilst he continues with graffiti his art has also evolved towards objects and design. From this fusion a style that combining graphic design and figurative art has emerged.

Dire has always been deeply committed to the graffiti scene and has been increasingly returning to street art in recent years; starting with collage and then works on paper or canvas. He has refined and perfected his art with a number collective projects and personal shows (Montana Gallery, Marbour event, Marseilles street art show...).

A specific fascination continually reappears in Dire's work: Woman. She is an obsessive and inspiring enigma, a source of meditation for Dire. Through his love and his reflections, he invites us to follow him into his complex world, without judgement.

Whether working with aerosol, paintbrush, pencils, dire brings out the soul of his sublime and sometimes troubling subjects. In the midst of this raw uncut art, his sensual portraits emit delicate emotions.