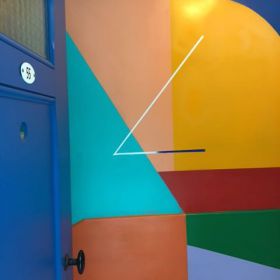 Was born and lives in Panama.

In 2004, the artists studied fine arts at the university. He goes deeper into photography and discovers panting: that is when Cisco Merel starts his flower and animal-themed creations in a very geometric style.

His circles, triangles, and squares are tangled with simplicity and virtuosity while sometime taking the shape of indigenous faces, yet always represented in flashy and plain colors. A way for this Panama artist to highlight his origins.

"I like the visual order of my work because it contrasts with my daily surrounding. I come from a very chaotic country in Central America." In 2012, with his interactive installation entitled Self Portrait, Cisco brings a touch of softness and poetry in a home country faced with political and economic struggle: a playful artwork full of hope. Without leaving the organic aspect of his work aside, the artist is gradually turning to abstract art by representing his own interpretation of shapes and space.