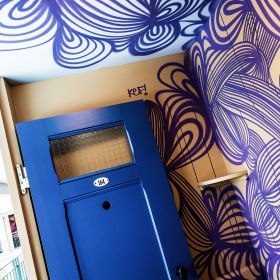 KEF! is originally from the small town of Übach-Palenberg in Germany and made is range in London in 2013 after seeing the vibant street art scene and feeling that there was a gap for his style and is now living in Berlin.

KEF! name means 'scar' and that's how he sees his wall painting, a lasting mark left which is difficult to remove.

The intricrate style of KEF! work can be described as abstract graffiti, with KEF! often talking about the harmony within the lines he creates. "People should always try to feel and not to think about my stuff" says KEF! As an artist he works instinctively taking inspiration from the nature always changing, as his work.

KEF!'s work can now be seen all across the globe and has been working closely with Urban Outfitters, redesigning the interiors of the London, Berlin, Stuttgart and Hong Kong stores, as well as Printemps's in Paris.