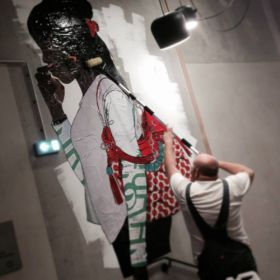 Born in 1973 in the north of France. He first studied applied art and cut his teeth as a graphic designer in an advertising agency. There he was able to freely express his creativity and quickly built up a passion for typography and compositional techniques.

Although his favourite subject still remains the portrait, he discovered his raw material and inspirations in the streets of Paris. He started by filling his sketch book with drawings of the people he met. He then likes to stick these portraits to walls as a testimony to these people he has met.

Balder's work draws its inspiration from these scenes of daily street-life which he likes to observe, always hoping to discover a face, an expression or a character. He confronts strangers asking them for their participation, getting to know about their lives, passions, etc.

In his portraits he tries to discover what makes up the identity of someone living in a big city where so many different cultures combine together and then transforms them using colour, text, traces of consumer products or found objects.

Balder's work is more than just a study of the individual; it is an eye-witness account of the people who live in today's big cities.